Who Can Be Held Liable In A Truck Accident in South Carolina?
If you or a family member sustained injuries or died in a truck accident, you may be wondering who can be held liable in a truck accident. This is an important question. Holding all parties accountable for your truck accident is the best way to ensure you receive full and fair compensation for your injuries.
The trucking and insurance industries hire skilled defense attorneys to protect their interests. You need an attorney who can stand up to insurance companies and fight for your rights so you can recover a full and fair settlement. At the Peace Law Firm, our truck accident lawyers have extensive experience and a documented track record of success. Contact us today for a free consultation.
Who Is Liable in a Truck Accident?
Determining truck accident liability often comes down to understanding how the crash occurred. According to the Federal Motor Carrier Safety Administration (FMCSA), truck crashes caused 4,444 deaths and approximately 101,000 injuries in the U.S. in 2020. 
The data compiled by FMCSA reveals that 23% of fatal crashes happened due to movement by the truck or loss of control. The data also shows that tire failures such as flats or blowouts are the most common cause of fatal truck accidents attributed to vehicle or mechanical failures. Additional mechanical failures that cause accidents include failed brakes, steering loss, and equipment failure like loss of safety lights.
Driver error is one of the most common causes of truck accidents. Driver errors include: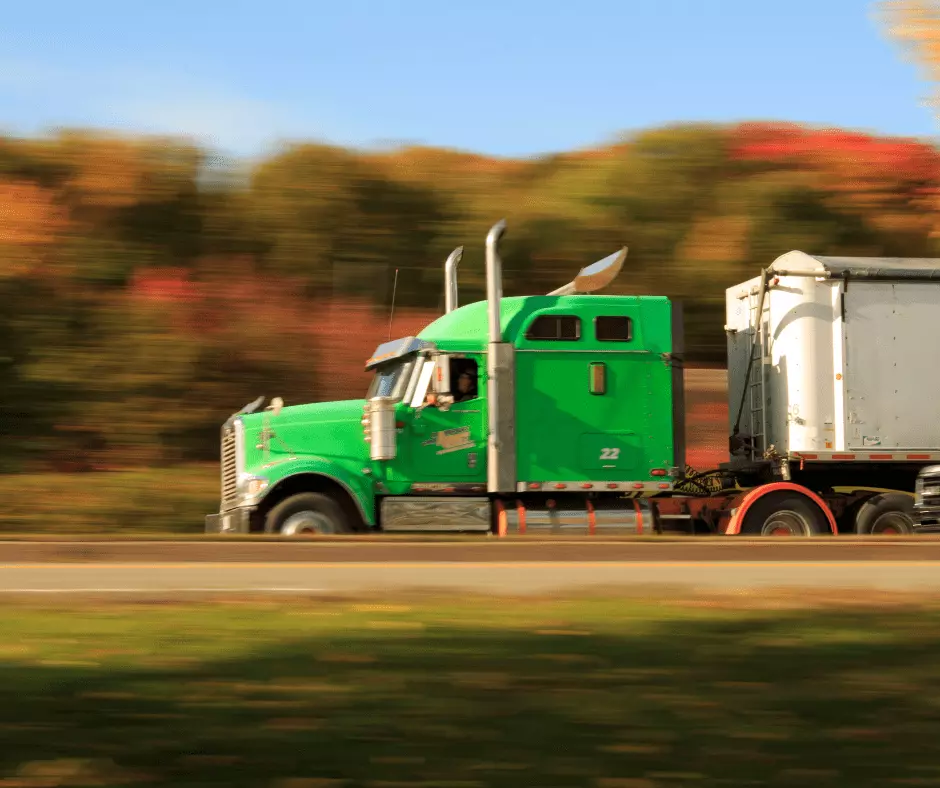 Speeding,
Carrying oversized loads,
Driving with an imbalanced load,
Failing to yield,
Failing to remain in the lane,
Fatigued driving,
Distracted driving, and
Consuming alcohol or drugs while driving.
Truck drivers who drive negligently or recklessly often leave a path of destruction in their wake. However, they might not be the only parties liable for your truck accident. Having an experienced and skilled attorney investigate your accident thoroughly is the best way to figure out who is responsible for your injuries.
Who Can Be Responsible for a Truck Accident?
Winning a fair settlement that compensates you for all your losses, including emotional pain and suffering, means you must include all potentially liable parties in your claim. Truck drivers and trucking companies with insufficient insurance coverage could leave you financially responsible for paying your outstanding and future medical bills. At the same time, you might be losing out on your wages because you cannot return to work. A situation like this is patently unjust and unfair. That's why our truck accident lawyers examine every potential avenue of recovery for you and your family.
Many clients only consider suing the trucker or trucking company for their losses. We start there and move on if the evidence leads us to other guilty parties.
Truckers must follow a long list of state and federal laws and regulations. These special rules exist to keep people safe on the roads. Failing to observe these rules often leads to tragedy. Consequently, proving the trucker drove negligently or violated one of the many rules they must follow is our priority. If the trucker is an employee of a trucking company, the trucking company could also be liable for the crash.
Other Potentially Liable Parties
Trucking companies are responsible for hiring competent and safe drivers. They are also responsible for ensuring their trucks are safe on the roads. Allowing drivers to operate unsafe trucks or hiring dangerous drivers creates potential legal liability for trucking companies.
Truck manufacturers can also be responsible for truck accidents if the truck is defective. If a faulty truck or a defective part caused your accident, you could have a claim against the vehicle or part maker, even if the driver was not negligent.
Similarly, truck mechanics and repair shops can be liable for accidents as well. Finally, the state, local, or federal government might bear some responsibility for your crash. Defective roads, poorly designed roads, and other dangerous road conditions can cause severe truck crashes.
Damages in Truck Accidents
You have a right to claim all economic losses that flow directly from your trucking accident. Economic losses include:
Medical bills,
Future medical costs,
Lost wages,
Loss of future earnings capacity, and
Property repair or replacement costs.
You may be eligible to collect noneconomic damages as well. Noneconomic damages compensate you for the emotional and psychological harm your injury has caused. Noneconomic damages include:
Pain and suffering,
Loss of enjoyment of life,
Disfigurement, and
Emotional distress.
You may have a right to claim punitive damages as well. Punitive damages are designed to punish wrongdoers rather than compensate you for your injury. In South Carolina, the law allows plaintiffs to ask a court to award punitive damages if the defendant's conduct was willful, wanton, or reckless. South Carolina law caps punitive damages at three times the plaintiff's compensatory damages award. However, plaintiffs cannot recover more than $500,000 in punitive damages, except in rare situations. 
Limitations on Rights to File a Claim
Anyone filing a personal injury lawsuit seeking compensation for injuries in a truck crash must do so within three years of the date of injury. You will forfeit your right to your damages claim if you miss this deadline. That's why talking with a knowledgeable truck accident lawyer as soon as possible after your accident is the best way to protect your rights and maximize your financial recovery.
Contact Peace Law Firm Now to Learn Who Can Be Held Liable in a Truck Accident
You have only one chance to get justice for your losses. That's why you need a zealous advocate who can help you maximize your settlement. At Peace Law Firm, we have 20 years of experience helping clients hold the parties responsible for their injuries accountable. We will fight for you to get the best possible outcome, and we are not afraid to take your case to trial if that's what it takes to help you get fair compensation. Contact us today to schedule a free consultation.